Foundation Push Pier Installation
A Permanent, warrantied Solution For Foundation Settlement Issues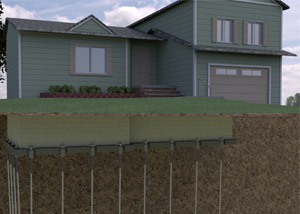 Push piers connect the house to stable, load-bearing soil or bedrock.
Soil with poor load-bearing capacity can give way under the weight of a house. To solve settlement problems, steel push piers are "pushed", or driven, until they reach more stable soil.
A steel bracket connects each pier to the foundation to prevent foundation settlement. Brackets are often used along with hydraulic jacks to lift the structure back to original position.
At Foundation Supportworks of Ontario, we recommend foundation push piers to stabilize foundations that are settling or sinking and showing symptoms such as cracked foundation walls, and jamming doors and windows.
What Are Push Piers?
Push piers are made with heavy duty steel and are connected to your foundation by a steel foundation bracket.
The piers are driven deep below your home in sections until the piers reach strong supporting soils. Steel brackets connect piers to the foundation, effectively transferring the weight of the structure to the deeper load-bearing soil.
Advantages Of Our System
Year-Round Installation
Can Be Installed Inside Or Outside The Foundation
Push Piers Reach Greater Depth Than Any Other Option Available
Installation Does Not Require Use Of Heavy Equipment
Can Lift Foundation Back To Original Position
Repair Not Visible After Installation Is Complete
Get a FREE Quote!
Schedule A Free Estimate
We can stabilize your foundation -- and potentially lift it back to its original position! Call us for a free push pier installation quote!
We serve Toronto, Mississauga, Brampton, Markham, Hamilton, Richmond Hill, Vaughan, Burlington, Oshawa, Oakville, St. Catharines, Barrie, Whitby, Owen Sound, Ajax, Pickering, Guelph and many nearby areas in Ontario.
Installing Our Foundation Push Pier System
The Supportworks' Push Pier System permanently stabilizes foundations that are damaged by settlement. We provide free quotes for all foundation repairs. We can customize a system that is ideal for your foundation and soil conditions.
Our warrantied solution can be installed on your foundation in four simple steps: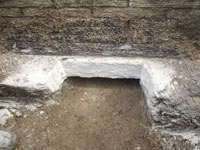 Preparing The Foundation Footing
For an outside installation, the soil around your foundation must be excavated so that the footing is exposed. For an inside installation, a section of your slab floor will need to be removed to expose the footing. The slab will be restored after the installation.
A section of the footing will be prepared for each foundation pier so that the pier is supporting the wall directly, and not simply lifting the section of the footing that extends beyond the walls. This makes for the strongest installation.
---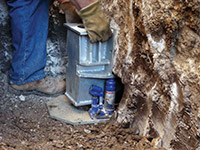 Securing The Foundation Bracket
A steel bracket is secured to the foundation footing at each pier location.
With push piers, the foundation bracket is installed before the piers are driven into the earth. This allows the push pier to take advantage of your home's structure, stabilizing the pier as it is advanced deep below your foundation to competent soils.
Each of our pier systems includes a 25-year warranty against manufacturer's defects, as well as our own in-house performance warranty.
---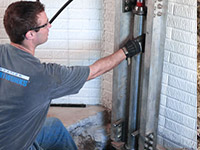 Installing Steel Piers
The hollow steel piers are installed in sections, or extensions, that are connected to each other. One at a time, each extension is driven down through the bracket until strong supporting soils or bedrock are reached.
These steel piers are the strongest component of our foundation pier system, and are responsible for transferring the weight of your structure to competent load-bearing soil.
Our foundation piers are available with a galvanized steel design. These piers are corrosion-resistant, for long-lasting durability.
---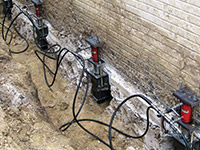 Stabilizing And Restoring The Foundation
Once all foundation piers have been installed, the settlement of your foundation will be permanently halted.
At this time, our foundation contractors will determine if the foundation should remain at its stabilized location or be lifted back to its original position. Following this final stabilization, slabs are repaired and soil is replaced to totally hide the repair.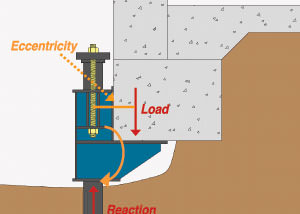 The Supportworks push pier system is engineered to handle the heaviest structural loads. As the weight bears down on the foundation bracket, the bracket exerts great pressure on the pier directly beneath the bracket.
This is the most critical point of stress on a foundation push pier system, where extra strength in the pier helps the most. Our push pier system includes a steel sleeve that extends from the bottom of the bracket, reinforcing the pier at this critical point.
Why Our Push Piers Are The Best
The Supportworks Push Pier System that we use here at Foundation Supportworks of Ontario features a patent-pending external sleeve which strengthens the pier system directly below the bracket, which is the most critical location.
The external sleeve strengthens piers during installation as well, which prevents the kinking, buckling, and rotating that is commonly seen during the installation of other push pier systems.
A Word of Warning:
Beware of contractors who tout the strength and capacity of their system's bracket. The bracket is only one piece of the puzzle!
Because push piers are installed adjacent to a foundation footing and not directly underneath, the weight instead bears directly down on the bracket, and the pressure is then transferred to the pier itself. Engineers call this effect eccentricity.
Because of this eccentricity, all pier systems see the greatest level of bending stress directly below the bottom of the bracket.
Installing a steel sleeve on the pier directly below the bracket is a cost-effective way to effectively strengthen your entire pier system.
Push Pier Installers In Ontario
As a Supportworks contractor, we offer professional installations of push pier systems for structures that are experiencing damage from settlement or sinking.
We provide free, written push pier installation quotes. If you would like to schedule your free on-site inspection, professional consultation, and written system design, call or e-mail us today!
Our service area includes Brampton, Mississauga, Toronto, and nearby areas such as Vaughan, Markham, Hamilton, Oakville, Burlington, Oshawa, Richmond Hill, St. Catharines, Barrie, Whitby, Owen Sound, Ajax, Pickering, Guelph.
Looking for a price? Get a no cost, no obligation free estimate.